Air Conditioning Installation
Heating, Ventilation & Air Conditioning Solutions
Everyone loves California for its beautiful and moderate weather, but those who reside in the area know just how hot it can get in the summer. At Ice Age HVAC, we make sure your air conditioning services, in the Los Angeles area, will be taken care of.
Air Conditioning Installation Service
Our prompt and efficient AC services provide you with the best air conditioning installation, air conditioning maintenance, and air conditioning repair, ensuring that we can protect you from the heat waves to come. We guarantee we are the right HVAC team for you when it comes to installing your new air conditioning system.
Designated Air Conditioning Area
Prior to the installation of your new AC unit, a large designated area is necessary to hold the large home appliance. If you are planning to place the AC system on the roof, we will install a proper support system. On the other hand, if you plan on placing the AC system next to your home, we will layout a concrete pad to ensure the proper holding of the machine. Considering the sheer size and weight of an air conditioning unit, allow our certified and experienced technicians, at Ice Age HVAC, to handle all your AC services. We get the job done, while you stay cool and out of the sun.
AC Removal and Installation
Ice Age HVAC will also assist you with both AC removal and installation. Air conditioners will typically last between 10 to 15 years. Once your AC is over 10 years old, you will want to look out for the following signs: 
The AC unit can no longer cool all the rooms evenly 
It takes longer for the home to get cool 
A gradual increase in the monthly cooling bill
If any of these apply, contact one of our service professionals. We will inspect and formulate a plan to remove your current system. Once we have completed the removal, our technicians can begin the installation process of your brand new energy-efficient air conditioner. To ensure the ideal functioning of your new AC system, our expert servicemen will perform a final check and multi-point inspection. This inspection includes checking proper operation, calculating loads on the system, and checking the unit's overall energy efficiency ratio. Contact Ice Age HVAC today for all air conditioning services, including, but not limited to, removal and installation.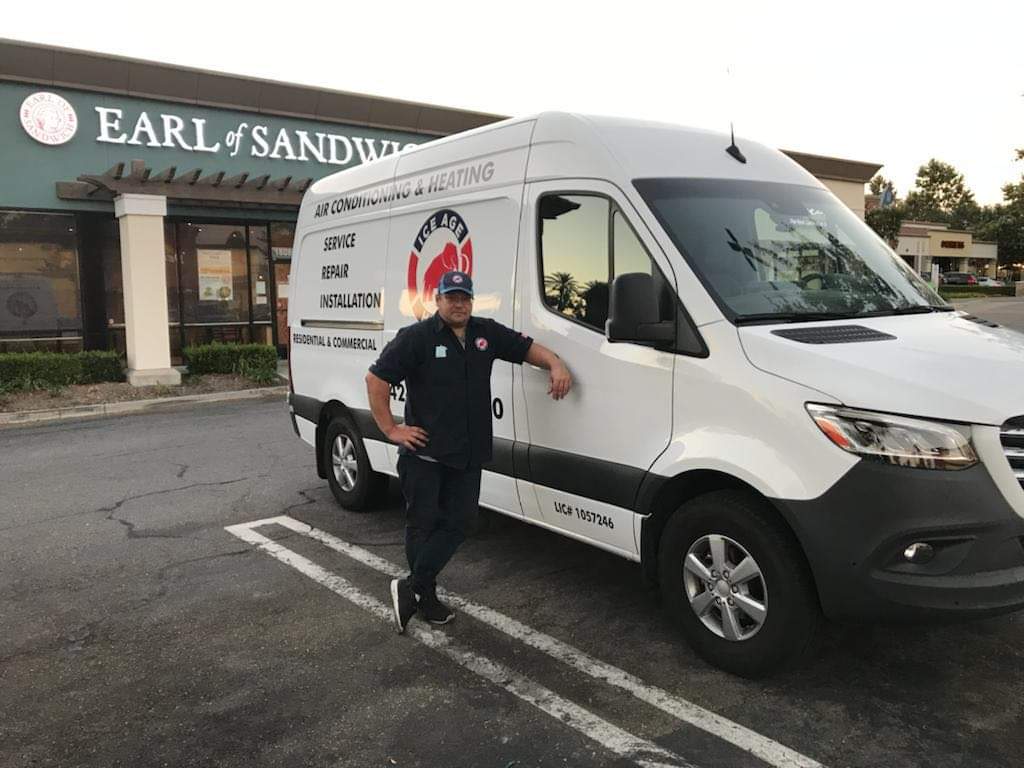 Is air conditioning common in Los Angeles?
Yes, air conditioners are commonly used in Los Angeles. In fact, air conditioners are a necessity in LA. Los Angeles, in general, is characterized by a hot and dry climate. So, the citizens of LA always prefer staying in cool and comfortable environment. Summertime is the hottest season of the year. In this season, the temperature frequently goes to 90 degrees or above. When the temperature is so high, it is unbearable to remain outdoors. Without air conditioners, it will be almost impossible to survive in hot weather. Whether it is summer or winter, air conditioners are a must for the people of LA.
Ice Age HVAC Services in Los Angeles
If you need expert service for your HVAC unit, then look no further than Ice Age
Heating and Air Conditioning Service.
We specialize in the following areas:
Repairing all makes of central heating/cooling systems
Replacing old age cooling & heating systems with new energy-efficient ones
Commercial or Residential
What people are Saying About Us
Greg was great! He was prompt, explained everything, worked quietly, cleaning and efficiently. Would highly recommend.
Our technician Gregory was extremely knowledgeable and fixed the problem within minutes. He also took the time to educate me on maintenance and how our system works. It was a great experience and I highly recommended their services.
Very friendly and helpful service in our time of need. I would recommend them to anyone looking for HVAC repair.
Silvie Bordeaux
2021-02-17
Outstanding customer service. Very thorough.l Highly recommend Greg 🙂
Gregory was the best. He was on time, reliable and knew what the problem was with my heater right away. He fixed it fast. Thank you Gregory. Great Service.
Professional and quick service! Would definitely call them again. So happy to have our heat working again.
Gregory at Ice Age is the best! I have used him both for my restaurant and my own home. Quick to diagnose the problem and even quicker to fix the issue. Will be using him for all my needs thank you!
We are ready to serve you
Address
13654 Victory Blvd Unit 487, Van Nuys, CA 91401, United States