Ice Age HVAC repair specialists
Heating, Ventilation & Air Conditioning Solutions
Locally owned and operated HVAC repair Van Nuys, California, Ice Age HVAC is a full-service residential and commercial heating & cooling equipment provider serving Los Angeles and the greater LA area with over 10 years of experience in the field. Whether you're in need of heating or air conditioning repair, installation, replacement, maintenance or cleaning — Ice Age HVAC and our experienced technicians have you covered.


If you're looking for HVAC Installation Los Angeles companies, consider Ice Age HVAC repair in Los Angeles. We are experts and provide installation, repair, and maintenance services to homeowners and businesses. Our services include upgrades to environmentally friendly systems and indoor air quality assessments. All work is guaranteed! Read on to learn more about Ice Age HVAC Services in Los Angeles.
How much does HVAC cost in California?
There are many factors that determine the price of HVAC installation. The size of the unit is the biggest factor, and can range from $1,500 to $3,500. The size of the system refers to the output, or BTUs, it produces. A smaller HVAC system will operate constantly to maintain a comfortable temperature, while a larger one will run only when necessary to control humidity. Regardless of the size of the HVAC unit, you should keep the following factors in mind when getting an estimate.
The type of installation will depend on the size and complexity of the system. If the system is over 15 years old, it is more likely to malfunction, making a new installation a better investment. Roof-mounted HVAC systems require heavy lifting equipment, but they offer the added benefit of heating and cooling in one unit. They are particularly convenient for properties with limited ground space. Depending on the model, you may need to have parapet walls built in order to protect the unit from the weather. Proper insulation can help lower heating and cooling costs by up to 15%.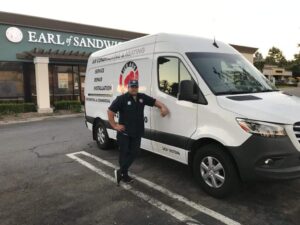 Air Conditioning Repair & Installations
If you live in the Southern Californian city of Los Angeles, you are probably aware of the need for Air Conditioning Repair & Installations. Whether your AC is outdated or is a new model, regular maintenance and service is vital to keeping your home comfortable year-round. Whether you are looking for a replacement air conditioner or a repair for your existing system, Ice Age is the right place to call. We can help you choose the best unit for your home and maximize energy efficiency.
Some of the most common problems with air conditioning systems include: noisy or unpleasant odors, noisy operation, and unreliable performance. Make sure that your thermostat is set to "cool". Call Ice Age HVAC to have your air conditioner repaired and restored to its optimal working condition. We offer comprehensive services and high quality air conditioning repair.
Furnace heating Repairs
The routine maintenance of your home's HVAC system is often overlooked. While it is important to change the air filter and check the thermostat, proper maintenance will ensure that your system continues to deliver the comfort you want in the colder seasons. Performing routine maintenance is crucial for your furnace's efficiency. Regular maintenance can prevent breakdowns and keep your furnace running smoothly and efficiently. It also helps to extend the lifespan of your system.
The services of the team at Ice Age HVAC installation Los Angeles include installation of furnaces, air conditioning systems, insulation, and compressors. Our team are NATE-certified and specializes in all brands of HVAC systems. Whether you need a new system or routine maintenance, these experts will be able to make sure your system is operating at its optimal level. We offer extended warranty support and customer satisfaction guarantees. For your peace of mind, call Ice Age the HVAC specialists today.
We also provide 24/7 emergency services, programmable thermostats, and other HVAC services. For your convenience, we are licensed, bonded, and insured. We offer financing options to help you pay for your service. That way, you can be sure you won't be stuck with an unsatisfactory system.
Thermostat Installations
There are many reasons to have your thermostat installed by an experienced HVAC installation Los Angeles technician. Most homeowners just set the thermostat to a certain temperature and leave it there. This wastes energy and money. Electronic programmable thermostats are a great option for homeowners looking to conserve energy and cut costs. HVAC installation Los Angeles professionals can help you make the decision that is right for your home and budget. The following are some of the advantages to using a smart thermostat for your home.
Smart thermostats cost between $200 and $650 to install, but this price does not include the actual thermostat unit. Some people try to cut the cost by installing the thermostats themselves, but it is important to hire a professional to make sure it functions properly and lasts for years.
Zoning Systems
If you're looking to save money on your HVAC installation Los Angeles service, zoning systems might be a good option. Not only will they allow you to adjust the settings to suit different areas of the home, but they'll also improve the comfort level in your home. Zoning systems are especially useful in homes with multiple levels or different rooms. And because they're more energy efficient, they can also help save you money.
Another benefit of zoning systems is that they're easy to operate. Once installed, homeowners can program and set the temperature in each zone for specific periods of time. This is especially helpful for multi-story homes, since it can be difficult to regulate the temperature in every part of the home. Also, zoned HVAC systems can be extremely energy-efficient, which will reduce your energy bills in the long run. Zoning systems can reduce your utility costs by as much as 30%.
HVAC zoning systems can also be beneficial for commercial buildings. This is an easy, cost-effective way to gain more control over the system's operation. They use dampers in the ductwork to customize temperature zones in different parts of the home, allowing you to save money on electricity and HVAC maintenance. Zoning systems also allow for special needs in different areas of the home. By using a zoning system, your entire home can benefit from optimal comfort and energy efficiency.
Commercial HVAC
The cost of a commercial HVAC system varies based on the size of the building. A 1000 square foot building can have a central air-conditioning system installed for as little as $6000. A 2000 square foot commercial building can cost anywhere from $3000 to $5000. A furnace can run from $2000 to $8000, depending on the type. If ductwork already exists, you may be able to save money. Most HVAC companies offer discounts during the off-season.
Quality Los Angeles commercial HVAC systems provide energy efficiency by protecting a building from the scorching heat of the sun. Commercial HVAC systems are also more versatile than older models, which means that they can be added to a space without sacrificing comfort. They also have a high level of security because they are installed on rooftops. Professional installation ensures a quality system that runs smoothly and saves money on energy. Commercial HVAC systems have more features than older models, which makes them more reliable and flexible.
How much does it cost to replace AC in California?
Air conditioning costs in California vary greatly, from $4,100 to $6,900 on average. The best way to determine how much your system will cost is to shop around for the best deal. While air conditioners are essential to your home's comfort, you should also consider other factors, such as brand and efficiency, before making the final decision. This article will help you determine the average price of a new air conditioner in California.
The first consideration is unit size. The larger the home, the larger the unit will need to be. Various factors on the outside of the home, such as sun exposure and insulation, can impact the size of the unit. Typically, three to 3.5 tons of cooling power is enough for most homes, but larger homes may require as much as five tons. After determining the square footage of your home, you can compare the cost of the various units available.
Depending on the size of the unit, a 3-ton air conditioner costs anywhere from $3,050 to $4,500. The price also depends on whether you're replacing an old unit or installing a new one. The installation of a new system also involves new ductwork, which may add to the overall cost. The cost of ductwork may also vary based on the size of the unit and the length of the ducts.
Appliance Repair & Maintenance
If you are looking for quality air conditioning service in Los Angeles, you should consider contacting the Ice Age Repair Services. With over 10 years of experience serving clients in the Los Angeles area, these professionals are equipped to service all types of air conditioning units. Our technicians are capable of fixing various problems such as refrigerant leaks, dirty filters, and broken compressor fans. They also perform routine maintenance and repair services on various appliances, including ovens and washing machines. They also provide a 24-hour hotline for emergency repairs.